Cats Veterinary Staff
Cats Veterinary staff is proud to announce we have been GOLD status approved as a Cat Friendly Practice by the AAFP (American Association of Feline Practitioners). Our veterinary staff has worked hard to attain this goal for ourselves, our clients and most importantly for our feline patients. We look forward to continuing and expanding our quality of care in the years to come!

---
Dr. Dan Marshall
Dr. Marshall is still the proud owner of Cats Veterinary,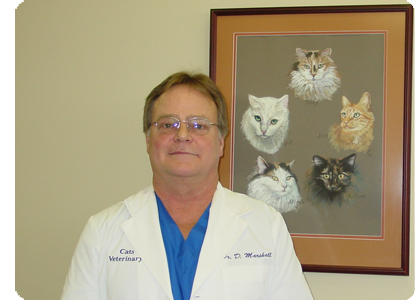 though is retired from performing surgeries and seeing patients.
Dr. Marshall was born and raised in southeast Michigan. He attended public schools both in Detroit and Grosse Pointe. In 1973 he joined the U. S. Army and served with distinction as an infantry medic with the 82nd Airborne Division. He resumed his schooling upon discharge and as the junior class Valedictorian at the University of Illinois was accepted into graduate school in the College of Veterinary Medicine. His first year of grad school also saw his completion of a Bachelors Degree in Animal Science and he received his Doctorate in Veterinary Medicine in 1982.
Dr Marshall's first few years of practice saw him in general small animal then small animal emergency practice until 1986 when he switched to exclusively feline medicine and surgery.
He opened his own feline only practice in 1992.
In 1993 he resumed schooling to become licensed to perform nuclear medicine and opened the first radioiodine treatment center in Michigan for cats with thyroid tumors in 1995. Since then he has expanded to four facilities in Michigan that offer radioiodine treatments. Dr. Marshall still oversees all four radioiodine treatment centers in Michigan while in retirement.
In 1995 he was elected to the South Eastern Michigan Veterinary Medical Association council and served, as it's president in 2002. Dr. Marshall has also served on the Michigan Veterinary Medical Association's board of directors. Dr Marshall and his wife Randy reside in their historic Tudor home, which over the last 15 years they have renovated to near original condition. They have shared their home with as many as 28 rescued cats but currently only have 10 at home and 4 in the office.
---
Dr. Whitney Hough
Dr. Hough was born and raised in Oklahoma. She began working in a veterinary clinic at the age of thirteen as a kennel assistant and eventually worked for many years as a veterinary assistant prior to and during veterinary school. She also participated in extensive volunteer work at the Oklahoma City Zoo and a local humane society, Pets and People. Dr. Hough attended Oklahoma State University and graduated with her Doctorate of Veterinary Medicine in 2012. She then moved to Michigan where she completed a one year rotating surgical and medicine internship at a nearby veterinary specialty hospital. She went on to complete two years of training in an internal medicine residency that allowed her the opportunity to become a skilled ultrasonographer. Dr. Hough has always fostered a passion for feline medicine. She spends her free time enjoying the company of her five cats, Shooter, Dottie, Lucy, Nugget and Millie, along with her four small dogs, Maddie, Rusty, Georgie and Lilly.
---
Dr. Christy Reagan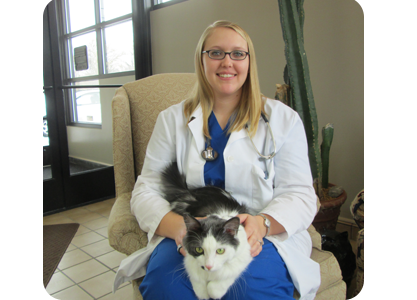 Dr. Christy Reagan was born and raised in Metro Detroit. She attended the University of Detroit Mercy for undergrad, receiving a BS in Biochemistry. She graduated from Michigan State University with her Doctorate of Veterinary Medicine in 2013. She worked in a small animal emergency practice prior to starting at Cats Veterinary in January 2014. Dr. Reagan is a member of both AVMA and MVMA. Dr. Reagan enjoys horseback riding, reading, crocheting/knitting, and working out in her free time. She currently has four cats, Roadie, Roxanne, Scarlett, and Rhett. She is looking forward to adopting a dog with her fiancé in the near future.
---
Licensed Veterinary Technicians
| | |
| --- | --- |
| Jen | Jessica |
| | |
| --- | --- |
| Mandy | Shannon |
---
Support Staff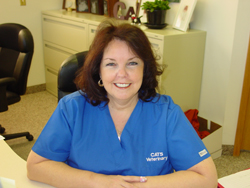 Receptionist – Cindy
---
Supporting Cast